Sports
Nadal vs. Thiem: The factors that will decide the French Open title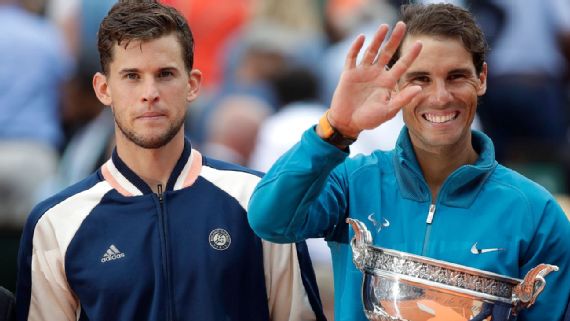 PARIS — There is no shortage of storylines for Sunday's men's final at the 2019 French Open between No. 2 seed Rafael Nadal and No. 4 Dominic Thiem.
Nadal is looking to extend his mind-boggling record of Roland Garros titles to 12, while Thiem is aiming for his first Grand Slam title. This year's final is also a rematch of last year's championship, which Nadal won in straight sets. And then there's the added wrinkle of Thiem coming off a five-set victory over Novak Djokovic that extended over two days and didn't finish until Saturday due to inclement weather.
How both players react to those factors will go a long way to determining this year's champion. Our experts answer the biggest questions and break down what to expect in Sunday's final.
Due to the quick turnaround for Thiem, how much will rest play a part in Sunday's final?
Bodo: Simple answer for Thiem: stamina. Thiem is one of just four men with three or more wins over Nadal on clay (Thiem is 4-7 against Nadal on the surface), but none of those four wins has been in a best-of-five match. It doesn't help that Thiem was forced to play more than two hours of demanding tennis Saturday due to the suspension of his Friday semifinal against Djokovic. Thiem's physical reserves are bound to be lower than when he lost to Nadal in last year's final.
Nadal, meanwhile, has to worry about two things, starting with his physical fitness. In the past nine months alone, he issued a walkover to Roger Federer before their semifinal meeting at Indian Wells and retired during his US Open semifinal against Juan Martin del Potro. You never really know his condition. The other source of worry: Thiem is one of the few players who can hit through Nadal on any surface. At 25, Thiem is eight years younger. His body is more durable. His emotional reserves might be sufficient to trump his fatigue after that supercharged win over Djokovic.
Cambers: For Nadal, it's the power, speed and belief of Thiem's game. The Austrian has been here before, and although it was Nadal who beat him, the nerves should not be so severe. For Thiem, it's Nadal — the history, the aura, the man himself. And Nadal's game, which seems to be close to its best.
Ford: Thiem nailed it when he said self-belief — corny but true. Assuming the weird weather continues, Nadal will have to adjust to variable conditions with the same skill he did against Federer, and be just as focused on the big points.